MEET THE SNOW QUEEN TEAM
The Snow Queen ice ballet proposes top international talent in every aspect. Developed and produced by an interdisciplinary team of renowned creators, the project has been brought to life by an array of performing arts professionals.
The Snow Queen features an entirely original score composed by one of the most internationally renowned film composers of our time, Tuomas Kantelinen. Director, Reija Wäre, recognized for her outstanding musical and arena productions as well as stunning ice choreographies, is responsible for the direction and choreography of The Snow Queen.
The script and concept design are signed by Canadian writer Melissa A. Thompson, interdisciplinary arts specialist and long-time concept designer with Cirque du Soleil. The ballet's Lighting, Staging and Video Designer is Mikki Kunttu, widely recognized for his international productions including Cirque du Soleil, The Royal Danish Ballet and the Boston Ballet.
Erika Turunen, whose distinctive signature in costume design has earned her international acclaim in the fields of both dance and opera, has designed the costumes of this production. Anu Oksanen, the coach of Marigold IceUnity, is responsible for the synchronized skating choreographies. With its unique format of combining the worlds of live skating and dance, The Snow Queen features performances by top athletes and artists in both disciplines.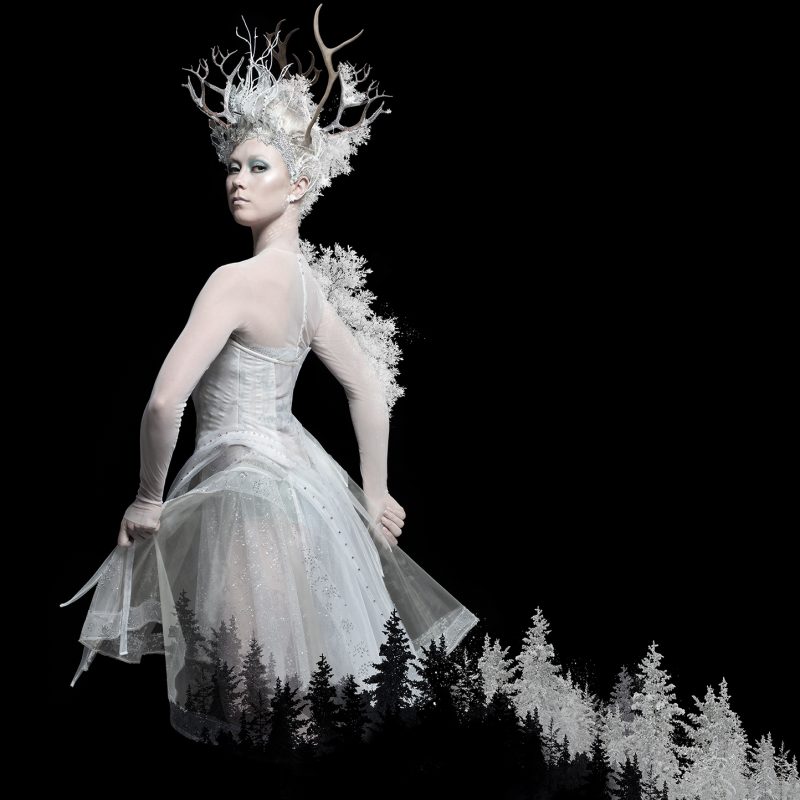 THE CAST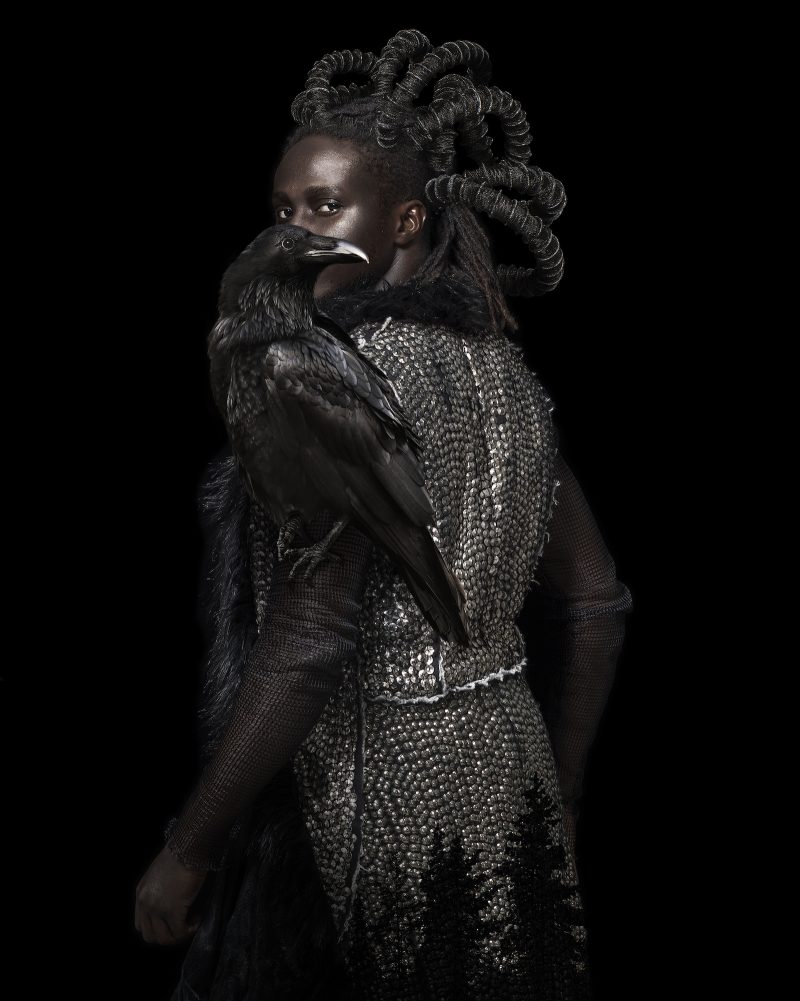 The Snow Queen – Laura Lepistö
Gerda – Silja Dos Reis
Kai – Felipe Montoya
The Raven/Hobgoblin – Ilja Glebov
Lemmy the Ermine – Julien Dulière
The Robber Girl – Mia-Mari Sinkkonen
Pond Hockey MC – Zabato Bebe
The Reindeer – Daria Perminova and Evgenii Belianin
The Twin Wizards – Susanna Rahkamo and Petri Kokko
Spring – Lisa Mochizuki
Snow Queen's Counsel – Mila Kajas
The Pond Hockey Game Commentator – Sami Hintsanen (Finnish shows) & Ville Pusa (Swedish show)
The Storyteller (voice) – Jonna Järnefelt
Raven Puppeteers & The Snowflake Soldiers
Marigold IceUnity: Annemarie Ervasti, Oona Hakkarainen, Emi Iizuka, Heidi Karhumäki, Melina Karinen, Sani Kerttula, Veera Lindroos, Lotta Mäkelä, Anni Nikkilä, Aino Palosuo, Ella Pitkälä, Fanny Rautavuoma, Veera Rissanen, Vilma Rissanen, Josefina Salmiheimo, Eevi Siiki, Milja Sirén, Oona Tammilehto, Salma Teivaala, Heta Torkkeli, Sanna Tuomisto, Reetta Uusitalo
Snow Queen's Entourage
Zabato Bebe, Evgenii Belianin, Yasmin Janatuinen, Jere Jääskeläinen, Kiira Kilpiö, Antton Laine, Lisa Mochizuki, Godwin Otieno, Daria Perminova, Sini Parkkinen, Aino Päivike, Sofia Ruija, Etel Röhr, Mia-Mari Sinkkonen, Jasmir Vesander, Jesse Wijnans
The Roses
Yasmin Janatuinen, Jere Jääskeläinen, Kiira Kilpiö, Antton Laine, Godwin Otieno, Sini Parkkinen, Aino Päivike, Sofia Ruija, Etel Röhr, Mia-Mari Sinkkonen, Jasmir Vesander, Jesse Wijnans
The Robbers
Zabato Bebe, Yasmin Janatuinen, Jere Jääskeläinen, Kiira Kilpiö, Antton Laine, Lisa Mochizuki, Godwin Otieno, Sini Parkkinen, Aino Päivike, Sofia Ruija, Etel Röhr, Mia-Mari Sinkkonen, Jasmir Vesander, Jesse Wijnans
Pond Hockey Players
Niklas Hagman (not on Sat 31 Dec), Jenni Hiirikoski, Pekka Saravo, Marko Anttila (not on Fri 30 Dec), Jukka Peltola (not on Sun 1 Jan), Jaakko Heinonen, Max Lorentz, Toivo Rannikko, Elsa Sitari
The Villagers
Julien Dulière, Zabato Bebe, Yasmin Janatuinen, Jere Jääskeläinen, Kiira Kilpiö, Antton Laine, Godwin Otieno, Sini Parkkinen, Aino Päivike, Sofia Ruija, Etel Röhr, Mia-Mari Sinkkonen, Jasmir Vesander, Jesse Wijnans, Melina Ylitalo, Marigold IceUnity
We reserve the right to changes.
THE ARTISTIC TEAM
REIJA WÄRE – DIRECTOR AND CHOREOGRAPHER
Reija Wäre has made a uniquely versatile career for herself in Finland, working as a director-choreographer among many different types of performing arts – from opera to street dance, from television to live stage, and from sports to mass events.
Reija received the Finnish Cultural Fund's award for cultural deeds in 2020. In the argument, she was called "boundary-crossing person, who makes others move in never-before-seen ways."
Reija has been part of the production of over 80 dance performances, plays, and musicals for the biggest theaters in Finland, and also worked for many independent and international productions.
Among her works as director-choreographer was Turku City Theater's Tom of Finland, which was touted as one of the greatest cultural experiences of 2017 by the biggest newspaper in Finland, Helsingin Sanomat.
Reija has also made a name for herself in the music industry, and took part in producing, among others, Antti Tuisku's Bailantai stadium concert tour for the fall of 2022. She has produced stadium shows for many other artists as well.
On television she has been a trailblazer for large-scale productions such as the New Music Competition, for which she was a stage director, one of the concept artists, and the main choreographer. She has also worked as a choreographer for many televised concerts as well as the shows Dance and Masked Singer.
The younger members of the audience may have seen Reija's work in the two latest Risto Räppääjä movies. She was lured into the world of skating originally by her work with the synchronized skating team Helsinki Rockettes.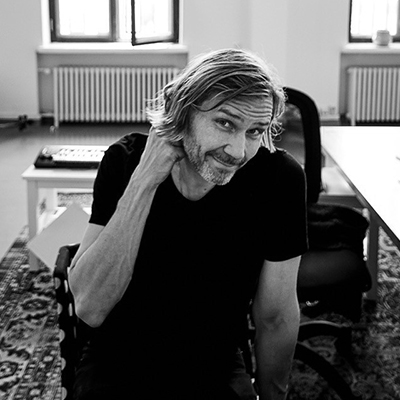 TUOMAS KANTELINEN – COMPOSER
The score of the Snow Queen was composed by the award-winning Tuomas Kantelinen, who is one of the most internationally famous Finnish movie composers. During his career, Tuomas has composed music for over a hundred domestic and international movies. Among his repertoire, you can find powerful dramas, historical epics, animations, thrillers, Hollywood action films, and children's movies.
Tuomas is also no stranger to the world of classical music. You could say Tuomas' music speaks to the hearts of a nation, and every household can certainly hear his work daily, as the Channel 3 News comprise of his music.
The score of the Snow Queen is beautiful, heart-wrenchingly melodic, full of powerful emotions and large group shots – and of course not without its humor!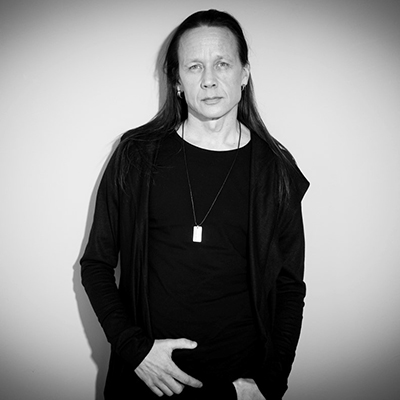 MIKKI KUNTTU – LIGHTING, STAGING AND VIDEO DESIGN
The show's visualist is Mikki Kunttu, who has showcased his works in the biggest of arenas and as part of some of the biggest productions. Among other things, Mikki has worked as a lighting and staging designer for Cirque du Soleil in Montreal.
Mikki's fingerprints are all over television, art, and music productions. He has worked as a lighting, screen, and st designer for many large-scale productions and tv galas, such as the National Opera, Danish Royal Ballet, Boston Ballet, Tero Saarinen Company, the Olympic Stadium in Berlin, and the Eurovision song contests in 2007, 2013, and 2016.
Mikki has worked as a visualist for many concerts and tours. He is also a sought-after lecturer in the biggest events of his field.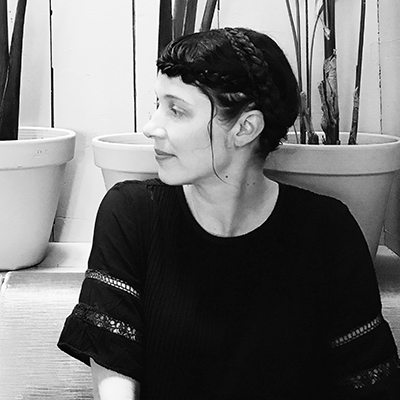 MELISSA A. THOMPSON – SCRIPTWRITER & CONCEPT DESIGNER
The Scriptwriter & Concept Designer of the Snow Queen is Canadian writer Melissa A. Thompson. An interdisciplinary specialist, Melissa first joined Cirque du Soleil as a fine arts consultant and went on to establish the Creative Intelligence team, an in-house think tank focused on resonant new directions for the organization. She also held the position of Concept Designer/Creative Lead at Cirque du Soleil where she developed a broad range of projects including installation-based exhibits, experiences and live theatre concepts over her 15-year career with the company.
Drawing on her background in visual arts, her work has been recognized through several collaborations with the Musée des Beaux Arts de Montreal where she held the role of Creative Director of their annual ball (2018–2020) and has collaborated on a wide range of exhibits, installations and performances.
THOMPSON + CLEAL is a design consultancy founded by partners in work and life, Melissa Thompson & Gerard Cleal. Among their perfectly eccentric collaborations, they are responsible for the 2022 rebranding of the Snow Queen production.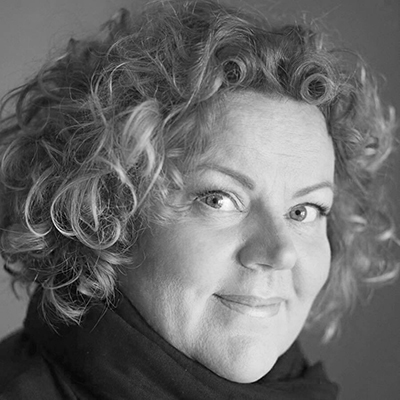 ERIKA TURUNEN – COSTUME DESIGN
Erika Turunen has designed wardrobes for modern dance, ballet, opera, and theater since 1990. She has a freelance contract as a costume designer for the Finnish National Opera and Ballet, where she was the head of her department from 1995 to 2009.
Some of her latest works include Tampere Opera's Carmen (2020), the National Opera's Das Rheingold (2019), Savonlinna Opera Festival's The Abduction from the Seraglio (2017) and The Queen of Spades (2018), as well as Compania Kaari Martin's dance performances in Anna Karenina (2018) and Tero Saarinen's Third Practice (2019). Erika has received praise especially for the costumes she has designed for modern dance.
Erika has worked with, among others, the choreographers Tero Saarinen, Kenneth Greve, Javier Torres, Jorma Elo, Susanna Leinonen, Kaari Martin, Jorma Uotinen, Jeroen Verbruggen, and Kenneth Kvarnström. Erika's unique style has also made her a sought-after partner for many international collaborations. She has designed outfits for the Nederlands Danse Theater, The Danish Royal Ballet, Korean National Dance Company, and Czeck National Theatre Ballet.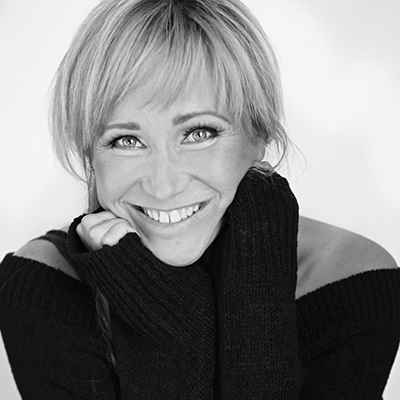 MINNA PILVINEN – MAKEUP DESIGN
Minna Pilvinen graduated as a hair stylist from the vocational institute in Rauma in 1996, and as a special hair stylist from the vocational institute in Turku in 1998. Minna graduated as a special makeup designer from the vocational institute in Turku in 1999, as a teacher from Helia polytechnic university in 2003, and as a beauty specialist from the polytechnic university in Turku in 2008.
Minna has worked for theater and television for over 20 years. Starting in 2014, she has worked as a permanent makeup artist for the Turku City Theatre, and she has worked as a freelance makeup artist for the Turku Castle Theatre since 2000. Her recent works include Turku City Theatre's Äiti (2022), The Hobbit (2021), Amelie (2019), Hamlet (2019), The Lord of the Rings (2018), and Tom of Finland (2017). She also did makeup design for the Turku Castle Theatre's revue MS Domino (2021), and Fölin alta (2022). She also worked on the opera Eerik XIV (2011) and Art Teatro's Cirque Dracula variety show for the Turku Music Festival, which was the culmination of Turku's year as the cultural capital.
Some of Minna's latest works for television and the big screen can be seen in the movies Sieniretki (2021) and Power of Love (2021), and the television series Kentän laidalla (2020). Minna is also an accomplished visual artist and held her first art show in the summer of 2020.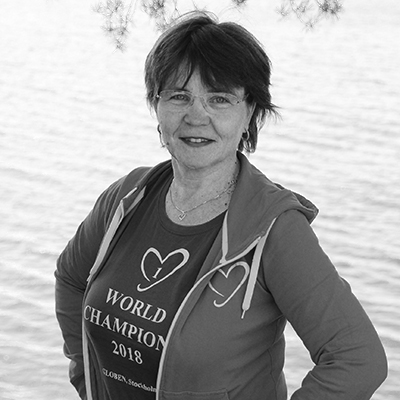 ANU OKSANEN – SYNCHRONIZED SKATING CHOREOGRAPHY
Marigold IceUnity's coach Anu "Jääskis" Oksanen has led her synchronized skating team to five World Championship gold medals, and 15 National Championship gold medals. She was also responsible for guiding the junior team Musketeers to two World Championship gold medals and 11 National Championship gold medals. Anu is also the head coach for the Helsingin Luistelijat skating organization's synchronized skating team.
Anu has a Bachelor's Degree in sports science. She has been coaching Helsingin Luistelijat since 1993. Coaches of Finland has selected her the female team sports coach of the year three times in 2002, 2004, and 2006.
Anu received Finland's Golden Cross award for sports and culture in 2019. The award is given to people in sports and culture for their lifetime achievements. During the same year, the city of Helsinki awarded Any with the Golden Helsinki medal. This is the highest honor the city can grant. She was also anointed among the one hundred legendary sportspeople of Helsinki.
THE PRODUCERS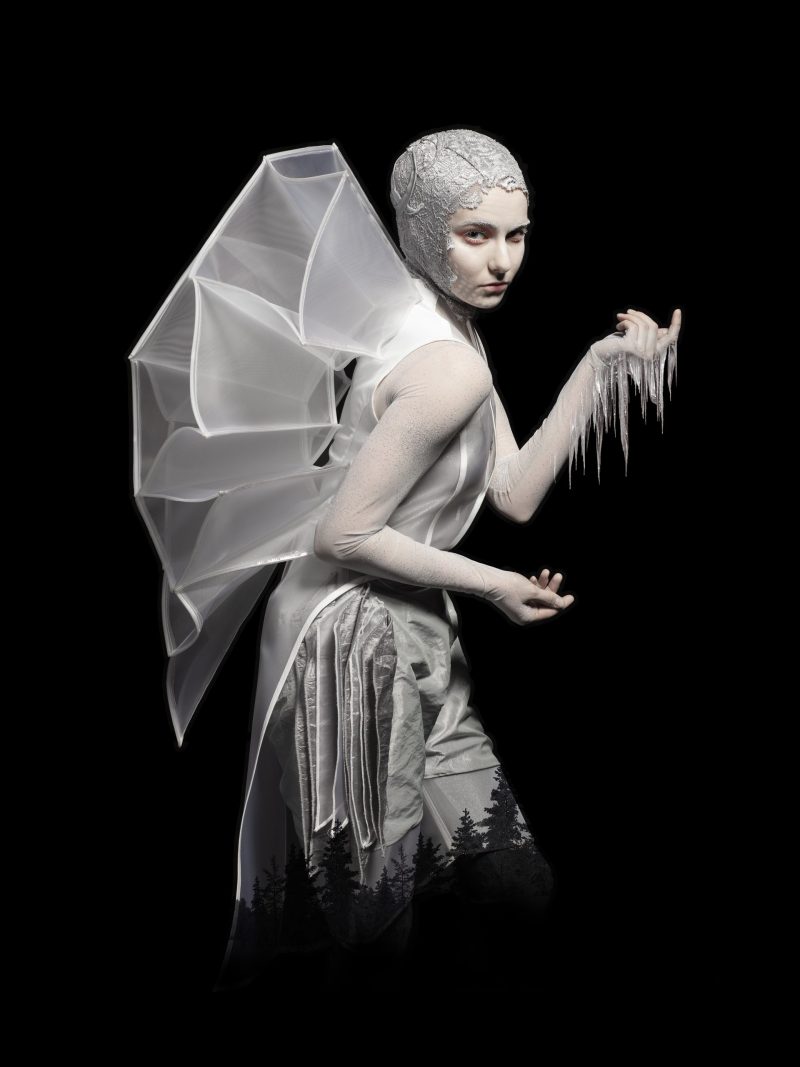 TAMPERE HALL & KANTELINEN COMPANY
Tampere Hall Ltd works on three sectors of event organizing: they operate Tampere Hall, the biggest congress and concert centre of the Nordic countries, and the Tuulensuu Palace, and function as the largest promoter of performing arts throughout Finland and as an event and congress office. As an event promoter with strong international networks, Tampere Hall produces more than 300 productions annually, for example the works of the Tampere Opera, arena-sized concerts, and international ballet and orchestra visits.
Kantelinen Company is a production company for performing arts. The company is owned by composer Tuomas Kantelinen, who internationally collaborates with Decca. In the production of The Snow Queen, Kantelinen Company is in charge of the artistic production and the composition.
THE PRODUCTION TEAM
Executive producers
Paulina Ahokas
Tuomas Kantelinen
Suvi Leinonen
Mika Nevalainen
Technical producer
Vesa Sytelä
Producers, production designers, assistants
Päivi Henttu
Kiira Kilpiö
Immo Kytölä
Antti Oksa
Sini Parkkinen
Maria Sahlstedt
Jyri Tervakangas
Katri Varjos
Annika Virtanen
Marketing and communications
Tiia Välimäki
Anna-Kaisa Noki-Helmanen
Elsa Vähänen
Micaela Röman
Jaani Haapasalo
Anne Sivula
Marjut Heinonen
Ansku Karlbom
Jutta Vetter Communications
Thompson + Cleal:
Melissa A. Thompson
Gerard Cleal
Creative Crue:
Malla Ferreira
Riina Rautiainen
Sami Nieminen
Janne Keränen
Anna Salminen
Eero Sundvall
Group sales and merchandise
Mervi Pentikäinen
Mari Äijälä-Aatamila
Saara Nurmi
Hospitality Team
Virpi Valtavaara
Yelena Korhonen
Karoliina Sunell
Ilona Siuro
Mari Lehtovaara
Anne Pesonen
Leena Sulonen
Heidi Rehakka
Heidi Tapaninaho-Pitkänen
Tiina Lumio
Marja-Leena Heinonen
Sustainability
Marko Koivisto
Pictures, videos and graphic design
Saara Salmi
Irina Kauppinen
Heidi Mäenpää
Matias Ahonen
Ville Haapakoski
Annaleena Haapasalo
Ville Hautakangas
Jimi Sipilä
Pekka Martti

Punamusta Oy
Tampereen Offsetpalvelu Oy
Tuotantoyhtiö Legenda Oy:
Tommi Lepola
Anne Nieminen
Tero Molin
Translations
Emma Kaustara
Hilkka Kaustara
Satu Rasila
Micaela Röman
Kerttu Vähänen
Accounting, payroll, HR
Heidi Rehakka
Minna Kiviranta
Jenni Palovaara
Marja Virta
Birgitta Kouhia
Heidi Tapaninaho-Pitkänen
Legal advice, contracts
Kari Karjalainen
Insurance and advice
Maarit Ehrama, Lähitapiola
Casting
Reija Wäre
Anu Oksanen
Suvi Leinonen
Orchestra
Budapest Art Orchestra
Music recording and orchestral arranger
Miklos Lukacs
Conductor
Peter Pejtsik
Soloists
Sanna Salmenkallio, violin
Karoliina Kantelinen, vocals
Lassi Logrén, keyed fiddle
Johan Hedin, keyed fiddle
Naveen Kumar, flutes
Costume making
Ateljee Hurma:
Johanna Vehmas
Taru Hahle
Ilkka Salakari
Aino Aho
Anita Penttinen

Työhuone Osk Hengari:
Sari Vaittinen
Ella Kauppinen
Jonna Nurmi
Senni Tähtinen
Salla Ilmarinen
Laura Lipiäinen
Julia Litjo
Katri Innanmaa
Vilma Nurmi
Linnea Kuusisto
Ronja Vähätiitto
Anni Kotiranta
Aida Depner
Riikka Lindroos

Rauman kaupunginteatterin puvusto:
Päivi Suomi
Henna Tyykilä
Make up team
Minna Pilvinen
Anna Kulju
Saara Tawast
Meeri Saukkoriipi
Johanna Paakkanen
Showcaller
Roope Mäenpää
Stage manager
Pasi Järvelä
Light programming and operator
Alex Hautamäki
Programming of projections
Saku Väänänen
Projection contents
Mikko Linnavuori
Follower projectors
Jaakko Sirainen
Sets and props
Pågå Tampere Oy
Lavastemestarit
Ville Pastell
Niko Hämäläinen
Juuso Lindberg
Set builders
Juho Fabrin
Markus Haavisto
Eetu Korhonen
Joona Lindberg
Special effects and pyrotechnics
Oy Pyroman Finland Ltd
Markku Aalto
Markus Reijonen
Kari Halio
Akun Tehdas production
Olli Pörhölä
Lighting technology
Arttu Sipilä
Pekka Suikkari
Esko Ansami
Jouni Järvinen
Mikko Leskinen
Olli Tamminen
Iida Hämäläinen
Jani Ahonen
Niko Särkikangas
Waltteri Wahlroos
Ella Väisänen
Pekka Olava
Eetu Vesamo
Executive lighting technician
Pete Jaako
PA
Hannu Mäki-Laurila
Ville Pesonen
Video systems technician
Teemu Lehtonen
Main suspension technician
Kari Wikström
Suspensions
Joni Heininen
Vili Perälä
Pirita Kervinen
Marja Kuokkanen
Roosa Kulju
Katriina Laitila
Cybermotion technician
Kristian Kuronen
Jaska Erkinheimo
Intercom technician
Riku Jaro
Akun Tehdas – Nokia Arena's AV technicians
Mikko Nyman
Matias Palo
Tracking light operators
Jarno Laituri
Harri Pitkänen
Aki Kivelä
Petri Salmi
Rude Rothsten
Ali Määttänen
Kaisa Löytynoja
Eveliina Laitanen
Erno Peltonen
Panu Kivi
Assisting technicians
Ilari Heikkilä
Santtu Pohjalainen
Tero Tanhuanpää
Petri Eskelinen
Oskari Hermiö
Jaakko Mylläri
Sebastian Von Bagh
Petri Eskelinen
Hannu Siren
Juuso Saarinen
Petri Honkamäki
Tuomas Karema
Pasi Jokinen
Eemi Aula
Leevi Vehkanen
Marka Sällinen
Aaro Tawast
Konsta Lamminen
Teemu Dammskägg
Onni Ahonen
Janne Ylilammi
Pyry Joki
Transportation of technology and sets
Ajomestarit Oy
The manufacturing of the Raven
Pågå Tampere Oy
Safety planning and coordination
Mika Mäki
Antti Saimaja
Pasi Uhtakari
Creative Europe
Heikki Kovalainen
Anna Hildur
Erna Kaaber
Jens de Gruyter
Lauri Laukkanen & Inspiroiva Creative
Thierry Heldenberg
Pietro Chiovaro
Raul Jurgenson
Art Schneider
Georgia Taglietti
Sofie Schäfler
Søren Brønserud
FUNDERS, COLLABORATION PARTNERS AND ACKNOWLEDGMENTS
Funders
Ministry of Education and Culture
Svenska kulturfonden
The City of Tampere
Tampere Hall Ltd
Tuomas Kantelinen Company
The Finnish Cultural Foundation, Pirkanmaa
Collaboration partners
Icehearts: Teemu Vartiamäki, Adel Abdalla, Petri Pätiälä, Arto Tukio, Katja Hautakoski
Elämys Group: Jami Palsa
JCDecaux: Klaus Kuhanen, Krista Kivikoski, Jenni Heinonen
Lapland Hotels Arena ja Tampere: Janne Mönkkönen
Lippupiste: Ari Palhamo, Maria Penttinen, Siiri Krouvila
Nokia Arena: Marko Hurme, Elina Tikkakoski, Eini Inha, Alex Regan ja muut
NOHO Partners: Miko Helander, Anna-Liisa Vuokko
Sanoma: Marko Salo, Jari Rask
Suomen Jääkiekkoliitto ry: Tuula Puputti, Petteri Hietanen, Suvi Aherto, Matti Nurminen
Suomen Taitoluisteluliitto ry: Outi Wuorenheimo, Katariina Kivimäki, Marita Kokko, Mila Kajas, Emma Ahonen, Salla Mäkelä
YLE: Miikka Maunula, Karoliina Vesa, Tiina Laitinen, Ilmari Aho, Jussi Buckbee, Liisa Vihmanen, Anna Sirén, Merja Maasalo, Anne Varis, Jari Väisänen, Jukka Lihavainen, Markku Lyytinen
Suomen Kansallisooppera ja -baletti: Maria Kuosmanen
Tampereen kaupungin tapahtumayksikkö: Perttu Pesä, Saara Saarteinen
Visit Tampere: Noora Heino, Olga Javits, Heli Jokela, Pirjo Rantanen
Tuusulan kunta: Jussi Salonen, Ulla Kinnunen, Paula Miettinen ja muut
Pure Represents: Angus Baskerville
Schwarzkopf: Päivi Korelin
Ole Hyvä Luonnontuote: Elli Unger
Tanssistudio Razzmatazz: Mirka Hietanen, Enja Mörsky
Banijay Finland Oy: Katja Price, Irene Kangasniemi, Liisa Kaartinen, Emma Delany
Bright Group: Tero Kärpijoki
Kisakallion Urheiluopisto: Jenni Korhonen, Anita Hellsten
Espoon Jääurheilun Tuki ry: Seidi Saarela
Sentteri Tampere Oy: Elina Penttinen
Lempäälän Jäähalli Oy: Sami Pursiainen
Tuusulan Jäähalli Oy: Teijo Jalonen
Tampere Hall Board of Directors 2021–2022
Martti Silvennoinen
Kristiina Michelsson
Väinö Friman
Jukka Gustafsson
Maija Kajan
Leena Kostiainen
Hanna-Leena Laszka
Leena Rauhala
Aku-Paulus Sajakorpi
Pia Viitanen
Sirkkaliisa Virtanen
Special thanks to
Kiira Korpi
Dmitry Semykin
Lasse Lipponen
Hjørdis Lee
Jukka Peltola
Kalervo Kummola
Lauri Lyly
Anna-Kaisa Heinämäki
Sören Lillkung
Riikka Koivula
Oula Jääskeläinen
Risto Juvonen
Mika Sulin
Marika Makaroff
Jorma Uotinen
Sirpa Räsänen
Iiris Autio
Rosa Meriläinen
Mirva Meriläinen
Tiina Vihtkari
Kaisa Rönkkö
Rauha Kyyrö
Tuomo Tähtinen
Helen Sildna
Chris Prosser
Chris Hewlett
Hannu Sinisalo
Annukka Hirvasvuopio-Laiti
Elna Nykänen-Andersson
Johanna Kotkajärvi